Be inspired: Connections that develop a child's love of learning; and how to stay connected as your child navigates their learning journey.
Staying Connected
Guiding and supporting children on their learning journey Rachel Saliba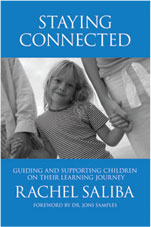 Practical designs interactive and inspiring workshops that provide useful tools to help maximise children's learning journeys. Participants learn new ways to support children on their learning journey whilst also becoming more aware of how their past experiences and current perspectives shape the support they offer.
E-Book
Preparing children for transition to school


For parents of early childhood or primary aged children

This easy to read ebook has been created for first time parents who are about to begin the journey into formal education with their child. The journey is one of excitement but also of adjustment to change for both parent and child. Our easy to follow thought bubbles and tips on how to manage as a parent through this stage of your child's learning journey is free to download.